Hey there, amazing families! Are you all set to embark on your dream group vacation together, but getting tangled up in the details of planning for a big crowd? Fear not, we've got your back! In this post, we're diving into the art and science of creating the ultimate itinerary for big families. Whether you have toddlers or grandparents (or both) in tow, there's something for everyone in the family to enjoy.
Flexible Travel Dates
The first step to orchestrating a successful family adventure? Flexible travel dates! While spontaneity may seem a little scary with a larger group, the benefits are endless. You may find cheaper accommodations, flights, and fewer tourist crowds if you're able to be a bit laid-back with your scheduling.
Pro tip: Set up price alerts for flights and accommodations to catch the best deals. Oh, and don't forget to consider school breaks and work vacations when picking your dates.
Buddy System
Big families mean big ideas, so why not involve the whole gang in the planning process? Designate a point person for different aspects of the trip or divide the planning duties by expertise. Have a foodie in the family? Let them explore dining options. Is cousin Jane an adrenaline junkie? She can scope out the area's adventure activities!
Mixing Activities for All Ages
A big family means a diverse array of interests, so be sure to include activities that cater to everyone. That means offering both relaxation time and high-energy excursions, as well as mixing cultural experiences with pure fun outings.
Some great all-ages activities include:
Nature walks or beach days

Family-friendly city tours (think hop-on-hop-off buses)

Theme parks and zoos

Interactive museums or cultural sites

Creative workshops, like cooking classes or pottery sessions

Adventure activities with varying levels of intensity
Remember, it's essential to plan for downtime and have contingency options for unpredictable weather. Games, movies, and puzzles can make for epic indoor family fun too!
Save and Splurge Moments
Working within a budget is crucial when you're traveling with a big family. Look for deals, group discounts, and family passes for popular attractions. Be selective with your "splurge" moments, like choosing a fancier dinner or a once-in-a-lifetime excursion. Remember, creating priceless memories doesn't have to break the bank!
Accommodation Hacks
Finding the right lodgings to suit everyone's needs without emptying the wallet is no easy feat. But fear not, with some research and a pinch of creativity, you can score the perfect home away from home. Consider vacation rentals with ample space, self-catering options (hello, family cook-offs!), and shared relaxation areas. This way, you can bond, unwind and keep everyone's privacy intact.
Divide and Conquer
Finally, remember that it's okay to split up sometimes! With diverse interests, it's impossible to please everyone at every moment. So, break into smaller subgroups for specific activities, then regroup to share stories and experiences. This gives everyone a chance to pursue their passions without holding others back.
"Divide and conquer" also works wonders for mealtime – assign different family members to grocery runs, cooking, cleaning, or even takeout duty. This will lighten the load, and everyone can pitch in to keep things running smoothly.
Things To Remember When Traveling with Big Family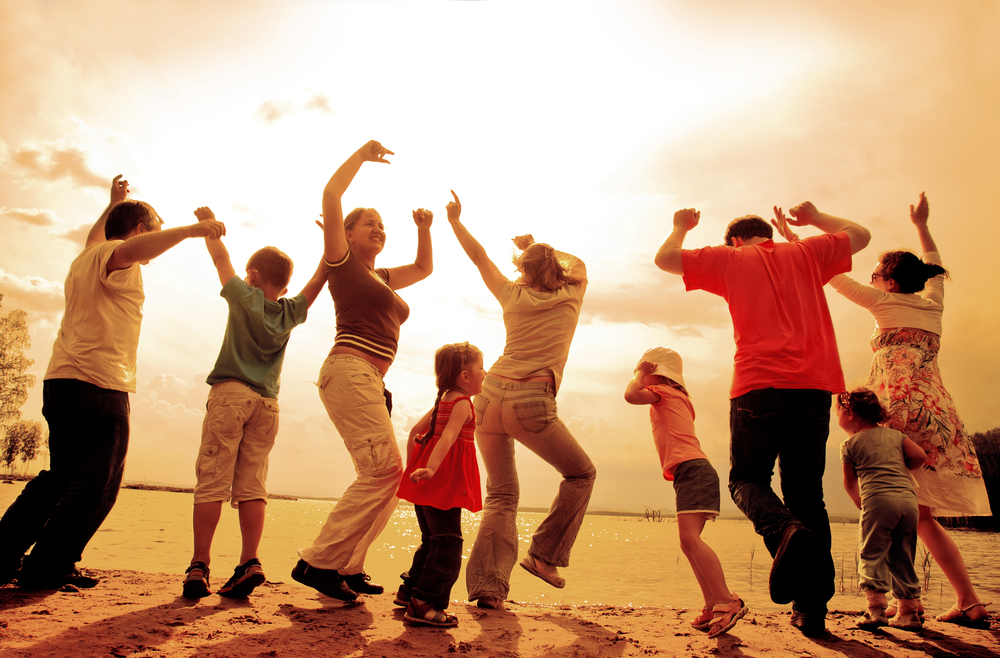 Hey there, big family travelers! Venturing to new destinations with your favorite people can be an absolute blast, but there's no denying that planning can be a bit hectic. Fear not! Keep these nifty tips in mind for a stress-free, laughter-filled family adventure:
Plan Together
Involve everyone in the planning process, making it a team effort! Share the workload, gather input, and ensure everyone's voices are heard.
Get Flexible
Opt for flexible travel dates to snag the best deals on flights and accommodations, and remember to be open to splitting up into subgroups during the trip for specific activities.
All-Ages Fun
Cater to everyone's interests by mixing up activities that suit all age groups and energy levels. The key is to keep a good balance—it's all about compromise!
Budget Smartly
Be mindful of the group budget, and explore group discounts, family passes for attractions, and budget-friendly accommodations. Remember, it's okay to have a few splurge moments too!
Space & Comfort
Seek out spacious lodgings (like vacation rentals) with privacy and shared common areas for maximum comfort and bonding.
Prep for Downtime
Have a contingency plan for unexpected events (like rainy days) with indoor activities, games, and movies. It's all about rolling with the punches!
Travel Snacks & Meals
Don't forget to pack snacks for those "hangry" moments, and discuss meal options that cater to everyone's preferences and dietary needs. Cooking together can be a fun activity, too!
Safety First
With a bigger group, it's crucial to keep safety in mind. Establish a buddy system, ensure everyone has emergency contact info, and review any local safety guidelines.
Patience & Communication
When traveling with a big family, patience and open communication are essential. Check in with each other and be mindful of everyone's feelings and experiences.
Embrace the Chaos
It's all about enjoying the madness, cherishing the bonding moments, and making unforgettable memories! Dive into the adventure with joy, love, and a dash of humor.
With these tips on hand, your big family trip is guaranteed to be a smooth, fun, and laughter-filled adventure. So pack your bags, gather the troops, and embark on the journey of a lifetime! 
Final Thoughts
Big family adventures are perhaps the most beautiful, chaotic, and fun-filled experiences you could ever have. Embrace the madness and appreciate the opportunity to spend quality time with the ones you love most.
Armed with these tips and tricks, you're all ready to craft the perfect family adventure itinerary that will make your trip a whirlwind of laughter, bonding, and memories that'll be cherished for years to come.
Let's go, fam!
Read Next: Post-Pandemic Travel Boom: Top 10 Must-Visit Cities in 2023